RE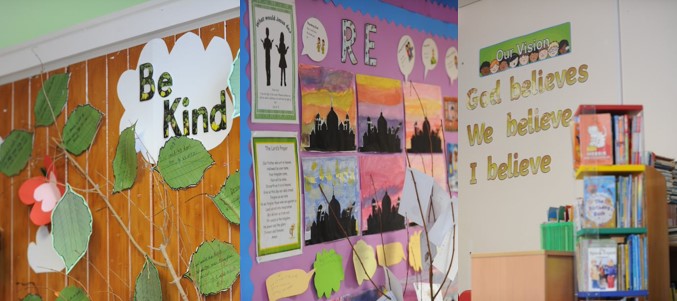 Our Vision - God Believes, We Believe, I Believe!
'for with God nothing shall be impossible' (Luke 1:37)
'To those who use well what they are given, even more will be given and they will have an abundance.' (Matthew 25:29)
Lived out through Religious Education
Religious Education – All children have the right to choose their own religion and beliefs. Article 14
As a Church of England School, Religious Teaching underpins all of our learning. We value RE as a core subject, which is why our RE curriculum, based around the Cornwall Agreed Syllabus and Understanding Christianity, has been designed to literally be the thread to bind and weave through all other topic-based curriculum teaching. This is implemented through our core Christian values which are explored and taught through our values characters and their values focused stories. See our Values page for more information on this.
As well as Christianity, we also teach Judaism and Islam. Throughout the school year we learn about other world events in the news and religious celebrations through our whole school Picture News and in-class news-based worship using Espresso News or Newsround. We mark these on our whole school world map noting children's rights across the globe.
We practice the right to one's own beliefs and culture (Article 14; UNCRC).
See below for our RE Overview with links to British Values and Children's Rights, RE Assessment Tracker, RE example of RE Pupil Progress document and RE Assessment sheet and our school ETHOS document.