School Council: Rights Ambassadors
Welcome to the School Council page!
Each class has two school council representatives, voted by the children at the start of the school year. We work on many projects and attend regular meetings.
We have previously achieved The Healthy Schools Award, and the PADL award. In the summer we run a Fruit and Vegetable stall from the produce grown in our Polytunnel in our sustainability lessons and in gardening club.
We ensure children's rights are received at school by supporting our friends at break times. We wear our rights hi-vis jackets, so children know how to find us.
Our focused rights are: Right to a Voice, Right to a Faith, Right to an Education, Right to be the Best we can be and Right to Relax and Play. These rights are printed on our jackets. We also remind our friends about our Core Christian Values of Faith, Love, Respect, Perseverance and Forgiveness.
We represent the school in our community such as at church for the Children's Remembrance Service.
We make sure we receive our right to a voice! Article 12 UNCRC.
We also work very closely with our Worship Leaders too!
Meet our School Council: Rights Ambassadors:
Here are some pictures of our produce stall.
Our Rights Ambassadors oversaw the voting, ensured the British Value of Democracy was upheld and enabled all to have their Right to a Voice on our Adopt an Animal Day! In remembrance of Prince Philip, Duke of Edinburgh, The Rainbow MAT are going to adopt an animal.
Across the Rainbow MAT all children (and staff!) came to school dressed as an animal and made a donation. All children cast their vote for their preferred animal.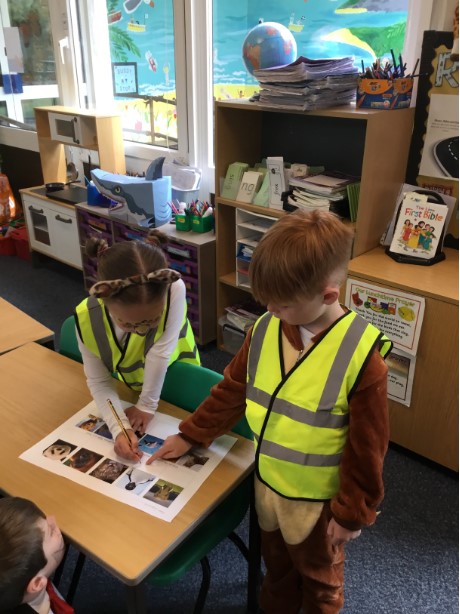 Deaf Awareness Week
British Sign Language (BSL) is part of our school. It is always part of our Collective Worship, and we have a specific signing worship once a week when we learn more. This is to ensure our worship is inclusive to all in school and can be shared to all in our wider community. During Deaf Awareness Week, we learnt to sign our school vision and values as well as much more.
We also had a visit from Mr Wilkes, parent volunteer and Teacher of the Deaf, to help us learn even more. It happened to be our Adopt an Animal day, so Mr Wilkes taught us how to sign the animals we were dressed up in. Our Rights Ambassadors helped to spread the word that all children should receive their rights no matter what!
Right to Learn - we are learning a new skill in our signing
Right to a Voice - some children need to sign for their voice